Even if you're a beginner
This blog may contain affiliate links.
Tools needed: iPad and and Apple Pencil, your phone, and maybe your computer.
In over 6 years that I have been teaching calligraphy, I always get these two questions:
How can I make money using my Calligraphy?
Are weddings the only or best way to make money with calligraphy?
Well my friend, I have some great news for you. No, weddings are not the only way, and second, I have 3 ways that you can make money using your calligraphy. Without having to talk to anyone, or make hard sales. And a very lazy way to do it.
Now, let me clarify that "lazy" doesn't mean no work. It just means you can do it from your couch or desk. While binging on Netflix (I just finished Suits and I'm starting Outlander OMG, someone save me).
I'm an introvert/extrovert. I like to be hiding in my home, while doing work. However I have no problem teaching a large class and talking in front of people. So if you like your quiet time, this is for you.
So can you make a lot of money with calligraphy? Yes. Yes you can. It all depends what you do for work, what niche you decide to go on and your audience. In this blog I will focus on things that can earn you a little passive income. It starts slow, little money here and there with potential to grow to a lot of sales. Everyone's journey is different, but if you have a full time job, and want to do a little thingy on the side, then read on.
So let's begin.
POD
Also known as Print on Demand. Have you heard of Society6 or RedBubble? They sell a bunch of cool stuff with cool designs on it. The designs are done by artists from all over, and you can find some really unique things there. There are so many items from wall art, to coasters, to duvets, pillows, furniture, you name it.
The good news is you can add your own designs and open up your own store there. You can sell one thing or you can sell everything. Or a combo. Your choice.
It's free to sign up. So if you have some quotes (with no domain restrictions), words of affirmations, or even little designs you want to show the world? Upload them at one or both sites and tell the world. Holiday season is coming up and I always sell stuff there.
But what's so good about those platforms? They do EVERYTHING for you. They prepare, package, and ship whatever you sold straight to the customer! You don't hold inventory, you don't handle shipping labels, you don't even return anything.
The downside is that you only make a small percentage of the sale, but you're also making money in your sleep. PS: Some of the products have price flexibility and you are able to mark it up and make more money (potentially).
Drop Shipping on Etsy.
This is just like Society6 and Redbubble. However, you would use platforms like Printify or Printful, and connect them directly to your Etsy store. The same goes for this platform, you make a small percentage and they handle E-V-E-Y-T-H-I-N-G. You wanted lazy, I'm giving you lazy. Just because you're making a small buck doesn't mean you can't make a lot of bucks. I know designers who sell quite a bit with drop shipping. If you like this method, one of the things that can help you sell is to upload a lot of products on Etsy. I heard that ideally, you need over a 100 products for your shop to get more views and sales.
With drop shipping is easy, because with one design you can create dozens of products. If you already have an Etsy shop, this would help you add more items. The good news is, you can add the products from drop shipping, while selling your own stuff there (You can simply upload your quotes as a digital file for people to print on their own, with no actual product attached to it – ok that was 2 lazy ways in one!).
The downside: You make a small percentage just like the previous method. BUT, you're not doing anything except renew your listings with Etsy after a couple of months. So. yeah.
Make a font.
Did you know ANYONE can make and sell fonts? That includes you. This is the method that requires the most work upfront, as you have to really prep your calligraphy for it. BUT, you can make a font out of your own script. A lot of work. But all done from your couch. Prob while lying down.
Heck, you don't need to know calligraphy for this! You can make a font out of your own handwriting (and that includes those pesky print/block letters!)!!!
The app is called iFont. It's free to download and to make fonts. You can then upload to your computer/iPad and use it as a font option when you want to type anything. Just like choosing a font on Word, you can choose your own font because it will be there on that list. How cool is that??
Once your font is ready, you can upload it online, like Etsy and start promoting. Your very own font. And don't forget to give it a good name too, so when you see it, you know it's yours!
BONUS lazy way: Record a quick online class!
Ok, before you say "I'm just a beginner, I can't teach a class", let me tell you something. You don't need to be an expert. You just need to teach what you know. Just promote your class for what it is. Whether it's "5 different ways you can write the word "Love", "10 ways to cross a T", or anything else really, as long as you know how to do it, you can teach it. Now here's the best part: it doesn't need to be ONLY calligraphy stuff. If you paint, take pictures, cook, meditate, tell good jokes, do magic tricks, you can teach people how to do it. Remember, you just need to teach what you know.
You can record a class on your smartphone, and edit it with any free apps online. I usually record on my iPhone and edit on iMovie (on my iPad). It's free if you do it on the iPad. If you are using your PC/laptop, you can use other softwares like Lumen5, or LumaFusion to edit your videos.
So where do you upload your online classes? While many experienced teachers sell those courses on their own websites, you can start by doing what I do: upload them on Skillshare. It's easy, super user friendly, and their support is awesome.
Last time I checked your class needed to be at least 20 minutes long, so you can teach a quick tutorial and it will go on autopilot. You announce on social media, send everyone the link to your class and you're done. You can even check your stats on how many minutes people have watched your class already!
So now you might be asking how you can learn all of the things above. You can definitely find all the instructions online on YouTube. Or you can log into Skillshare if you're already a member. I literally learned everything above, including the font making, on Skillshare.
If you're already a member, just hope on their website HERE.
If you'd like to try Skillshare free for 30 days, just click on the picture below!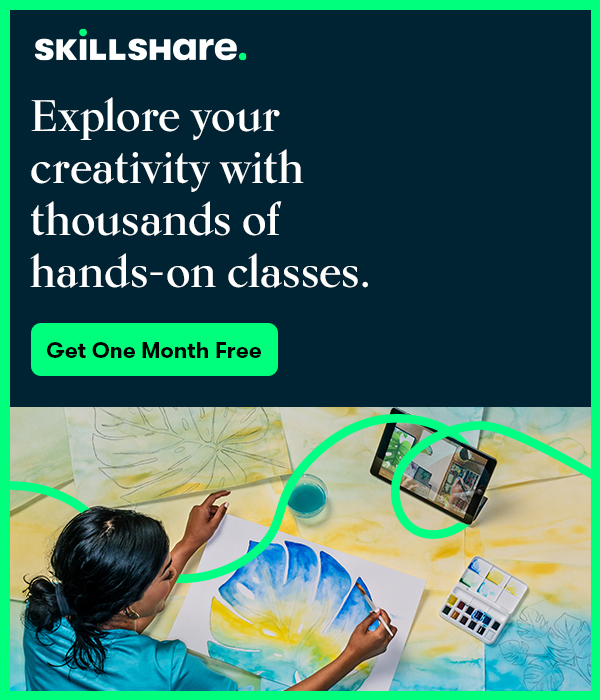 So, what do you think? Are you curious about any of the lazy ways above? Do you have any questions about them? Leave them in the comments!